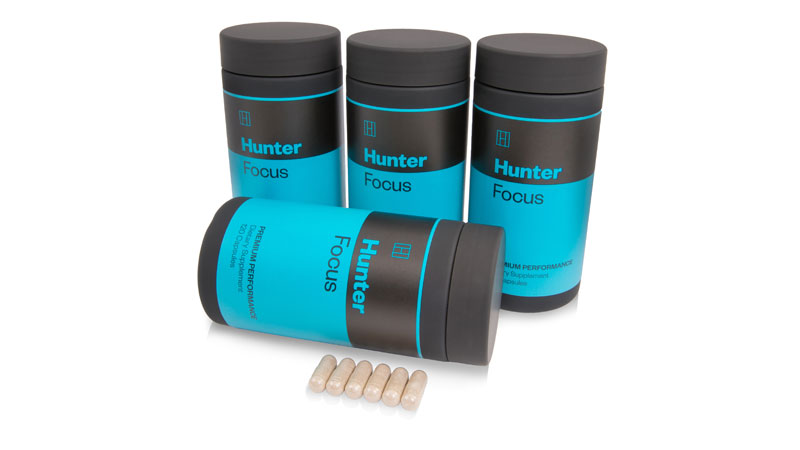 Find out if this nootropic stack can really boost cognitive power with our Hunter Focus review
Introducing Hunter Focus
There's a new nootropic in town, one which Claims to be the most sophisticated and high-quality product in the category – say hello to Hunter Focus.
With bold claims of premium performance and a second-to-none formula, this nootropic piqued our interest from the word go.
The whole Hunter range is created for and targeted toward the affluent man, who's juggling business, a thriving homelife and an active lifestyle. According to the manufacturer, Hunter Focus was created to offer mental support for your average high-flier and help him boost his cognitive performance, excel in the work environment and maintain a steady upward trajectory in life.
All of this sounds great, but we need to know if Hunter Focus has the supplement profile to back it up.
To confirm exactly how good this brain supplement really is, we're going to put it through its paces.
After a quick glance at the supplement, we spotted a few powerful nootropic ingredients which gave us a very positive first impression. Lions mane mushroom, ashwagandha extract and l-theanine are all big names in the supplements industry and we spotted some extremely generous servings within the mix.
It's a good start, but the truth of Hunter Focus' cognitive-boosting abilities will be revealed in a full review.
We'll look into the detail surrounding each ingredient to unearth the effectiveness, safety and value of this premium nootropic.
As we review the Hunter Focus formula, we'll compare their ingredient choices to the latest studies to ensure they're using only the best and most reliable options available. By grounding our findings in scientific research, we're in the best possible position to establish the true effectiveness of the supplement.
When we know the full extent of the power of Hunter Focus, we need to understand how safe it is. As with any supplement, consistent long-term consumption is the key to getting the most out of the ingredients involved. As such, we need to ensure every part of the formula is safe for regular use in the long-run.
After that, you need to know if the supplement is worth the price tag. This is the value of the product. By directly comparing the potency and power of the nootropic to the cost, we can get a pretty good idea of whether or not you should splash out.
Our methods of review are in-depth, thorough and provide the reader with true insight into the expected results of a supplement.
Read our Hunter Focus review to find out how this nootropic fared in our SpotMeBro.com review.
What are the benefits of taking Hunter Focus?
With a nootropic, the final outcome is improved cognitive performance. While that's what everyone who's exploring the nootropics market wants, pinning down what that actually means in your day-to-day life can be difficult.
We've simplified things a little. Below, you'll find the benefits you could feel from supplementing with Hunter Focus.
Improves memory functions
Elements of this formula have been proven to strengthen the signals between neurons. This helps your brain make new memories and improves your ability to recall the details.
Enhances ability to learn
Improved signal strength also helps you to learn and retain new information. On top of that, ingredients in Hunter Focus can amplify brain waves and signals, which in turn heightens your attention span and focus.
Alleviates symptoms of stress
Ingredients in Hunter Focus have been shown to trigger the release of certain chemicals that keep your brain healthy, but also improve your mood and keep the negative impacts of stress at bay.
Improves performance under pressure
The stress-busting effects of this formula, along with the enhanced learning support combines to help you stay calm and keep working through a problem. You'll feel this as a sense of clarity and focus, despite pressure.
Keeps your brain healthy
Several elements in this formula have been added to attempt to help you maintain good brain health for longer. They've been proven to power brain cell regeneration and keep the signals between neurons healthy.
Is Hunter Focus safe?
We need a quality nootropic supplement that takes safety just as seriously as potency. Luckily, Hunter Focus delivers a risk-free formula.
We came to this conclusion after reviewing the ingredients within Hunter Focus. We found each one was entirely natural and, upon research, we discovered they're all backed by scientific research.
They've also provided a formula that's completely free of proprietary blends, which gives a reassuring level of transparency.
Hunter Focus is also stimulant free, so you don't need to factor that into your daily intake.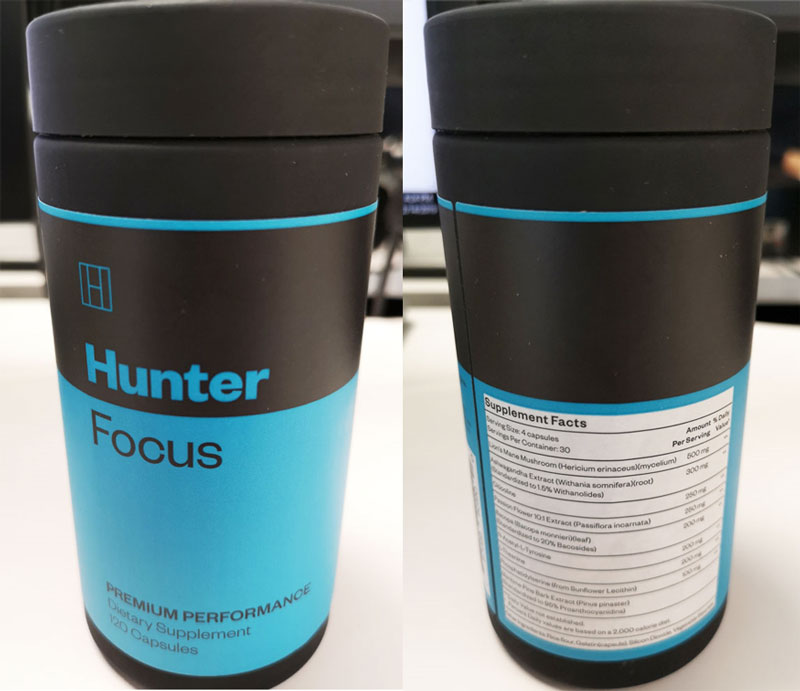 Hunter Focus ingredients
The creators behind this nootropic have crafted one of the best dosed formulas we've seen in this supplement category.
Hunter Focus uses just nine ingredients, across four capsules. By selecting fewer ingredients, they've given every element a chance to shine, rather than overfilling their capsules, under-dosing ingredients and creating an under-performing supplement.
This is our preferred approach to supplementation, as it demonstrates a commitment to delivering results, rather than just adding all the most popular ingredients to the list.
To further understand how this nootropic stack benefits your cognitive function, we've outlined the benefits you can expect from the main ingredients below.
Lions Mane Mushroom
Compounds within Lions Mane have been shown to increase the production of nerve growth factor, which protect and repair the nerves within your brain [1]. This helps to increase brain health and keep you sharper for longer.
This versatile ingredient has also been linked to increased plasticity [2], which means your memory and learning skills are greatly improved.
What's more, it can help you stay calm under pressure by alleviating the symptoms of stress [3].
This is one of the highest doses of Lions Mane we've seen in a nootropic, which leads us to conclude you'll feel powerful benefits from the supplement.
Ashwagandha Extract
Science has shown this ingredient helps to maintain and renew the dendrites and axons within your brain. This adds to your brain health and helps to enhance memory [4].
Ashwagandha has also been shown to heighten choline levels, which have been linked to improved mood and boosted motivation [5].
It's also been proven to be a powerful stress reliever when used at the Hunter Focus 300mg serving, which is another example of excellent, research-backed dosing in this supplement [6].
Citocoline
Upon entering the body, this ingredient splits into two compounds called choline and cytidine, which are shown to improve signal strength and therefore enhances memory and learning [7].
The compounds can also convert into uridine, which helps to maintain overall cognitive health by restoring and protecting brain cells [8].
The manufacturers behind Hunter Focus have used a serving size that reflects scientific studies, where citicoline has been proven to increase attention span and test scores [9].
Passion Flower Extract
This ingredient can amplify GABA levels according to studies [10]. This research found higher levels of the neurotransmitter led to improved mood and better sleep.
This helps to combat stress and make for a more relaxed and focussed attitude.
Bacopa
This ingredient holds two active ingredients, bacosides A and B, which can help to alleviate physical responses to stress [11].
It's also been shown to nourish the brain, improving signals between neurons and help to take your learning ability up a notch [12].
How to take Hunter Focus
We found some very well-dosed nootropic ingredients within Hunter Focus. To get the most out of them, we recommend you follow a consistent routine, that sticks to the manufacturer's directions.
You should take two servings of two capsules every day. They also recommend taking the capsules with a large glass of water and food.
To help you create consistency with this supplement, we suggest following this pattern:
Two capsules at breakfast with water
Two capsules at lunch with water
This should help to boost cognitive performance for the period you need it most – throughout the working day.
How much is Hunter Focus?
A single container of Hunter Focus offers 120 capsules, which equates to 30 days of supplementation.
One bottle of Hunter Focus costs: $75/ £55
If you do decide to stick with Hunter Focus for the long term, you can also benefit from a multi-buy option. If you decide to pay for three bottles, you receive a fourth and worldwide shipping for no extra charge.
The verdict
In such a young market, finding a nootropic with real clout can be a challenge. So many manufacturers create over-filled, under-dosed and un-researched products in a bid to cash in on this growing area of supplementation.
For us, Hunter Focus marks the start of a new era for nootropic supplement stacks.
This product is well generously dosed, uses only the most highly-researched ingredients and is entirely safe.
By using the best ingredients at optimal doses, Hunter Focus has placed itself right at the front of the pack. This intelligent approach will give you second-to-none brain-boosting results in a safe and natural way.
Our only stumbling point with Hunter Focus is the price. This is one of the best nootropics we've seen, and the price reflects that. While we agree it is worth the higher price, we understand this might not be something that's within everyone's price range.
However, if you are going to spend your money on a nootropic, we think it would be well spent on Hunter Focus.
Pros
Generous, optimal servings
Supports a variety of brain functions
Safe to use in the long term
Completely natural formula
Advanced formula
High-grade ingredients
Cons
Final score
4.5 out of 5 stars
References:
Ma, B-J. et al. Hericenones and erinacines: stimulators of nerve growth factor (NGF) biosynthesis in Hericium erinaceus. Mycology: An International Journal on Fungal Biology Volume 1, 2010 – Issue 2
Brandalise, F. et al. Dietary Supplementation of Hericium erinaceus Increases Mossy Fiber-CA3 Hippocampal Neurotransmission and Recognition Memory in Wild-Type Mice. Evid Based Complement Alternat Med. 2017; 2017: 3864340. Published online 2017 Jan
Nagano, M. et al. Reduction of depression and anxiety by 4 weeks Hericium erinaceus intake. Biomed Res. 2010 Aug;31(4):231-7
Tomoharu, K. et al. Neuritic regeneration and synaptic reconstruction induced by withanolide A. Br J Pharmacol. 2005 Apr; 144(7): 961–971. Published online 2005 Feb 14
Bswajit, A. et al. A Standardized Withania Somnifera Extract Significantly Reduces Stress-Related Parameters in Chronically Stressed Humans: A Double-Blind, Randomized, Placebo-Controlled Study
Chandrasekhar, K. et al. (2012). A prospective, randomized double-blind, placebo-controlled study of safety and efficacy of a high-concentration full-spectrum extract of Ashwagandha root in reducing stress and anxiety in adults. Indian Journal of Psychological Medicine, 34(3), p.255.
Taylor, P. and Brown, J.H. Synthesis, Storage and Release of Acetylcholine. Correspondence to Palmer Taylor and Joan Heller Brown, Department of Pharmacology, 0636, University of California, San Diego, La Jolla, California 92093.
Grieb, P. Neuroprotective Properties of Citicoline: Facts, Doubts and Unresolved Issues. CNS Drugs. 2014; 28(3): 185–193. Published online 2014 Feb 7.
Silveri M.M. et al. Cognizin® Citicoline Increases Brain Energy (ATP) by 14% and Speeds up Formation of Brain Membranes by 26% in Healthy Adults. Soc. Neurosci, San Diego, CA
Elsas, S.M. et al. Passiflora incarnata L. (Passionflower) extracts elicit GABA currents in hippocampal neurons in vitro, and show anxiogenic and anticonvulsant effects in vivo, varying with extraction method. Phytomedicine. Author manuscript; available in PMC 2011 Oct 1.
Sheikh, N. et al. Effect of Bacopa monniera on stress induced changes in plasma corticosterone and brain monoamines in rats. J Ethnopharmacol. 2007 May 22;111(3):671-6. Epub 2007 Jan 30.
Roodenrys, S. et al. Chronic effects of Brahmi (Bacopa monnieri) on human memory. Neuropsychopharmacology. 2002 Aug;27(2):279-81.