Click here to view original web page at hms.harvard.edu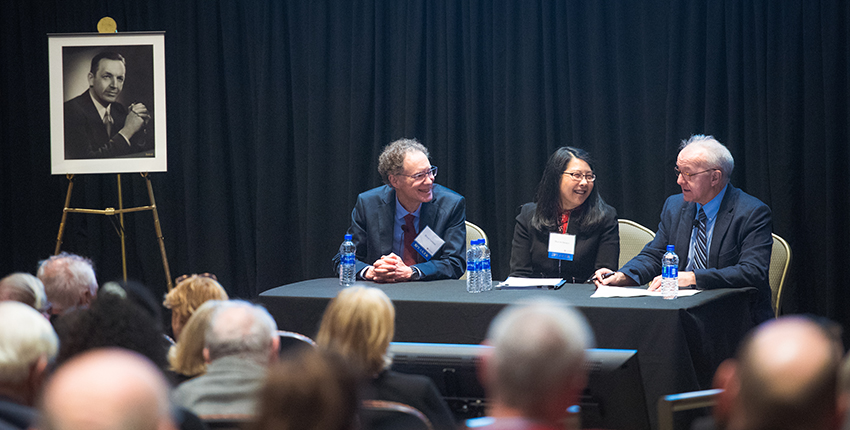 In 1919, the average life expectancy for people born in the U.S. was about 56 years. Today, that has risen to almost 79 years.
Older populations in particular are growing. The National Center for Health Statistics reports that 65-year-olds can expect to live another 19 years on average, five more than in 1950. As baby boomers age, the number of U.S. adults over 65 is expected to more than double by 2060, outnumbering children for the first time, according to the Population Reference Bureau.
As progress on multiple fronts has made it possible for many people to live longer, interest has grown in how to age well: preserving physical and mental health to maximize quality of life in the elder years.
"At medical school, we were told that our aim should be to help our patients die young as late as possible," surgeon and Harvard Medical School alumna Tenley Albright quipped at the 2019 Hollis L. Albright, MD '31 Symposium.
During the forum, entitled "Healthy Longevity and the Science of Brain Health," researchers highlighted a selection of projects that are uncovering fundamental mechanisms of both healthy aging and age-related conditions.
Tenley and brother Nile Albright established the annual symposium in 2001 in honor of their father, an HMS surgeon who dedicated his life to patient care and student mentorship.
Individual and societal challenges surrounding the aging brain and the aging U.S. demographic are "coming at us like a juggernaut," said HMS Dean George Q. Daley, the Caroline Shields Walker Professor of Medicine, at the March 28 event in the School's New Research Building.
"Understanding how we age—and what actions, genetics and environmental influences may promote healthy aging—are among the most exciting and important and impactful topics we wish to study at HMS," he said.
Tackling delirium
Many conditions once thought to be an inevitable consequence of aging are now understood to be preventable.
Keynote speaker Sharon Inouye, HMS professor of medicine and director of the Aging Brain Center at Hebrew SeniorLife, was instrumental in demonstrating that, contrary to previous belief, it's possible to stop hospitalized older adults from sliding into delirium.
Inouye spoke about how she and her colleagues developed a diagnostic checklist for delirium, which is characterized by acute confusion and reduced awareness of surroundings. They identified risk factors for the condition and established a set of interventions that led to a 40 percent drop in delirium cases. The approach has since been adopted by more than 200 hospitals.
Inouye described how she has expanded her research into uncovering the basic mechanisms of delirium and tracking older patients' long-term cognitive trajectories after surgery. She pointed to mounting evidence that delirium can lead to dementia.
Despite significant progress, there is still a long way to go, Inouye said.
No one person, even a world expert, can prevent delirium. It has to be a coordinated effort of the entire health care system.
She shared the story of how, when her aging father was hospitalized with kidney failure after a complication from a coronary bypass graft, even she couldn't prevent him from becoming delirious.
"I realized, no one person, even a world expert, can prevent delirium," she said. "It has to be a coordinated effort of the entire health care system working together to provide optimal care."
Inouye said the incident motivated her to become a Health and Aging Policy Fellow in Washington, D.C. She said she continues to work to improve public awareness of delirium and other conditions and to create health care systems that enhance cognitive health.
Need for REST
Long-term memory is one of our cardinal human attributes, said the symposium's other keynote speaker, Bruce Yankner, professor of genetics in the Blavatnik Institute at HMS and co-director of the Paul F. Glenn Center for the Biology of Aging.
"The idea that we could lose this intrinsic part of ourselves is a terrifying thought for a very large segment of our population," he said.
Fortunately, Yankner explained, researchers have come to recognize that dementia, like delirium, is not an inescapable consequence of aging. He described ways researchers are trying to understand and prevent age-related cognitive decline.
In the 1990s, Yankner led the team that first demonstrated the toxic effects of amyloid beta, the hallmark of Alzheimer's disease.
More recently, he showed that a protein called REST, known to regulate neural differentiation during early development and then subside in the young brain, later resurfaces in a subset of aging brains to potentially protect against neurodegeneration and other stresses.
Yankner spoke about differences in brain organization, neural activity and genetics that he said may help explain why some older adults maintain high cognitive performance while others decline—and why some people can harbor brain changes characteristic of Alzheimer's pathology without developing symptoms of dementia.
By conducting basic science that reveals the workings of Alzheimer's at the molecular and cellular levels and translating that knowledge into new therapies, Yankner said he believes "it won't be long before we're able to intervene fundamentally in this dreaded disorder."
Optimistic outlook
Each year at the symposium, the Hollis L. Albright, MD '31 Scholar Award is presented to an outstanding medical student at HMS.
The 2019 award went to fourth-year student Samantha Landino.
Having had to make difficult decisions about whether to undergo surgery herself as a young patient in a rural area with few medical services, Landino developed clinical and scientific interests in surgery. She now plans to become a cardiothoracic surgeon, researcher and teacher.
Landino will start her residency in general surgery at Massachusetts General Hospital in the fall.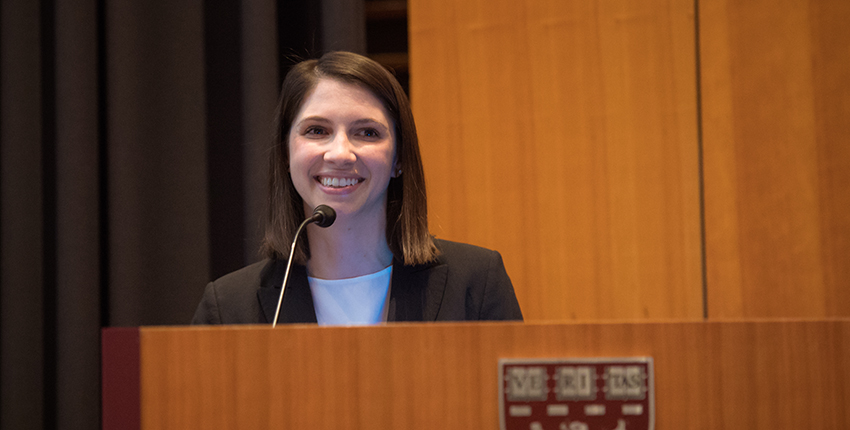 The panelists closed with a discussion about other factors related to healthy aging—such as exercise, diet, sleep and meaningful relationships—that included questions from the audience.
In response to an inquiry about whether aging is a disease, Yankner said, "The way I see it, aging is part of normal human development. It's important to bear in mind that some aspects of brain development improve with age, such as vocabulary and the ability to express yourself, as do certain emotional attributes […], such as contentment with life."
"There are some positive aspects of aging that are overlooked in the obsession our society has with youth," he said.
"I think it's a natural life process," Inouye added, "that can be, as Bruce says, filled with wonderful, fulfilling things."
Click here to view full article