Click here to view original web page at thechalkboardmag.com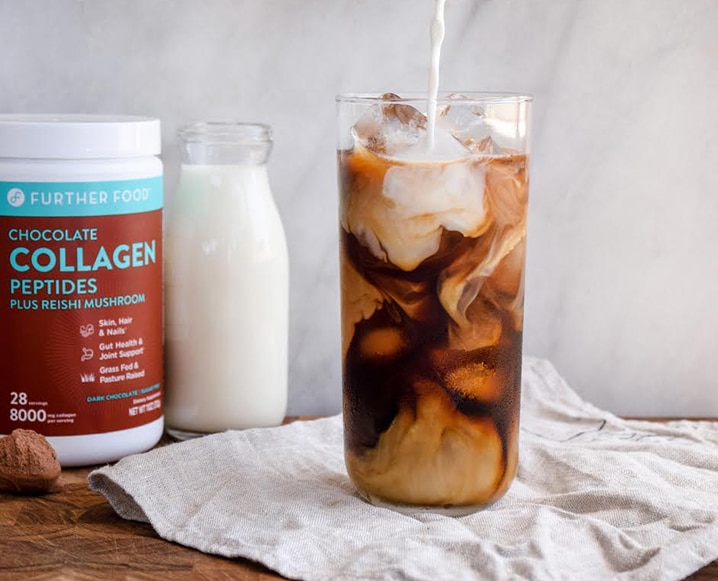 Just after lemon water

and leafy greens, chocolate protein powder may be the most valuable player in our daily routines. Lately, we've been trying one with a collagen peptide base and it's made all the difference. If you're still a bit mystified about the balance between clean eating and actually enjoying your life, a good chocolate collagen protein powder may be exactly the life hack you need.
Over the years, we've noticed that – whether it's our own readers or the wellness pros we feature – the list of pantry staples most women rely on to eat well, feel great, and avoid cravings is remarkably small. While what constitutes a "healthy diet" varies wildly from person to person, there are a few key products we find work well for most. One of them is this clean chocolate protein from Further Food's with a collagen peptide-base.
Further Food's new Chocolate Collagen Peptides Protein Powder has been our top pick lately when it comes to smoothies, superfood lattes and all the other things we toss a good protein powder into. Since collagen has been getting so much buzz as a beauty ingredient, it may be easy to forget that collagen is actually an exceptional source of protein. Further Food's new product contains some of best-source collagen we've found, made with grass-fed, pasture-raised collagen peptides and 100% real food ingredients: no gums, flavorings, processed sugar, stevia, or ingredients you can't pronounce.
We keep a good chocolate protein powder on hand at all times for sustainable health habits that aren't easily thwarted by the slew of junk food options around us at all times. Simply add chocolate protein powder to almond milk, a smoothie, or a latte while on the go, and you've got instant nourishment that'll keep blood sugar stable, satiate your hunger and curb cravings.
Here's why this chocolate collagen version from Further Foods is our top choice lately:
Chocolate | If you didn't get the memo on this one, we've got great news for you: chocolate can be incredibly good for your health. It's truly difficult to feel deprived while sucking down a chocolate smoothie or superfood latte. Try it, we dare you. Half the battle in sticking to health goals is avoiding that fear-induced sense of deprivation and restriction. Having a few rich-tasting, go-to recipes made with chocolate protein powder on hand can go a long way there — for us it's that afternoon smoothie. Chocolate is also known to be a natural mood enhancer, making it that much more enjoyable to work it into your daily life.
collagen Protein | Still think that supplement protein is just for body builders? Think again. Most women struggle to eat enough protein throughout the day. Getting enough protein is key for stable blood sugar levels — a critical health metric for overall health, a fired-up metabolism, uplifted mood, mental clarity and more. Protein powder can serve as a base for a wide variety of different foods, and is an efficient way to fill nutritional gaps. Next time you're hit with a sugar craving, whip up a protein-rich smoothie or latte instead. Notice how you feel thirty to forty minutes later: your blood sugar (read: mood!) may be more stable and you may still feel calmly satiated.
Collagen is so celebrated for its beauty benefits, it is sometimes overlook as an incredible source of protein too. As the most abundant form of protein in the body, collagen is found in the muscles, skin, bones and blood vessels. Natural collagen levels begin to slowly decline as you get older, resulting in symptoms like joint pain, wrinkles and hair loss. Supplementing with collagen is an effective way to boost levels and reverse the symptoms of aging and help us thrive overall.
Getting enough collagen in your diet helps support radiant glowing skin, and stronger longer hair and nails. Collagen can also help reduce gut inflammation and aid digestion; studies show that the amino acids in collagen peptides help to repair intestinal lining and can help heal leaky gut and other gastrointestinal/gut issues. Supplementing with collagen protein helps build lean muscle, helps with repair and recovery, and aids in injury prevention. Collagen has been shown to strengthen bones, joints, and ligaments and may help reduce joint pain and stiffness.
Reishi | This powerful adaptogen is amazing for boosting mood and immunity while reducing stress, anxiety, and fatigue. Reishi mushrooms are so powerful because they work as an "immune modulator," which means they are able to help keep your body at proper homeostasis. Studies have shown that reishi mushrooms have neuroprotective properties that can not only support the brain itself but can also improve your memory.
Here's what to do with it…
5 Ways To Use Chocolate Protein Powder Daily
Chocolate Smoothie. Whether you're just starting your day or looking for a little nourishment after an intense workout, a well-balanced protein-packed smoothie is the ultimate fuel. The best smoothies follow a simple formula: clean protein, healthy fats, fiber, greens and non-dairy milk to pull it all together. Chocolate collagen peptides protein powder delivers a hit of chocolate flavor and bioavailable protein without any sugar.
Superfood mocha. The best way to beat that dreaded afternoon slump is by tossing back a cup of key nutrients (and a little caffeine) to give your mind and body the boost they're craving. Technically, any superfood added to a caffeinated cup of almond or coconut milk counts as a superfood latte. To make your own, simply prep your usual cup but blend in a few select adaptogens and a scoop of a clean and easily dissolvable protein powder. Chocolate collagen peptides protein powder gives the latte a luscious mocha vibe, and blends easily into the liquid without leaving gross clumps or making it too thick.
Energy Balls. We love these raw energy bites from Sweet Laurel bakery. To make them, combine all ingredients in a food processor and blend until smooth: 1/2 cup chocolate collagen peptides protein powder, 1/2 cup hemp seeds. 1 cup almond butter, 3/4 cup shredded coconut, 1 tablespoon vanilla extract, 3 tablespoons chia seeds, 2 tablespoons date paste and 1 tablespoon cacao nibs (optional, for extra chocolatey goodness). After blending, roll into balls and store in the freezer until you're ready to snack!
Overnight Oats. This easy to prep breakfast is our go-to for days we just don't have time to deal with life. Swirl a few ingredients together in a jar before you go to be and wake up with it ready to go. We like to step up a basic recipe by mixing in a little extra protein. To make overnight oats, combine 1 cup gluten-free rolled oats, 1 cup unsweetened nut milk, 1 tablespoon chia seeds, maple syrup to taste, and one scoop of chocolate collagen peptides protein powder. Leave it in the fridge for 12 hours, stir it together then top it off with cacao nibs, berries, bananas or whatever else suits your fancy.
Raw Brownies. There's nothing better than keeping a stash of homemade, raw fudge brownies in the freezer for clean and easy snacking. We recently picked up this epicly easy recipe: use a high-speed blender to process 1 bar of very dark chocolate (melted) with 1/2 cup almond butter and 1/2 cup pitted dates. Add in a coop of chocolate collagen peptides protein powder for an extra boost of nutrition. Spread it evenly into a lined pan and leave in the freezer for 20 minutes or until hardened. Slice into squares and enjoy.
Click here to view full article