Click here to view original web page at www.trainingbeta.com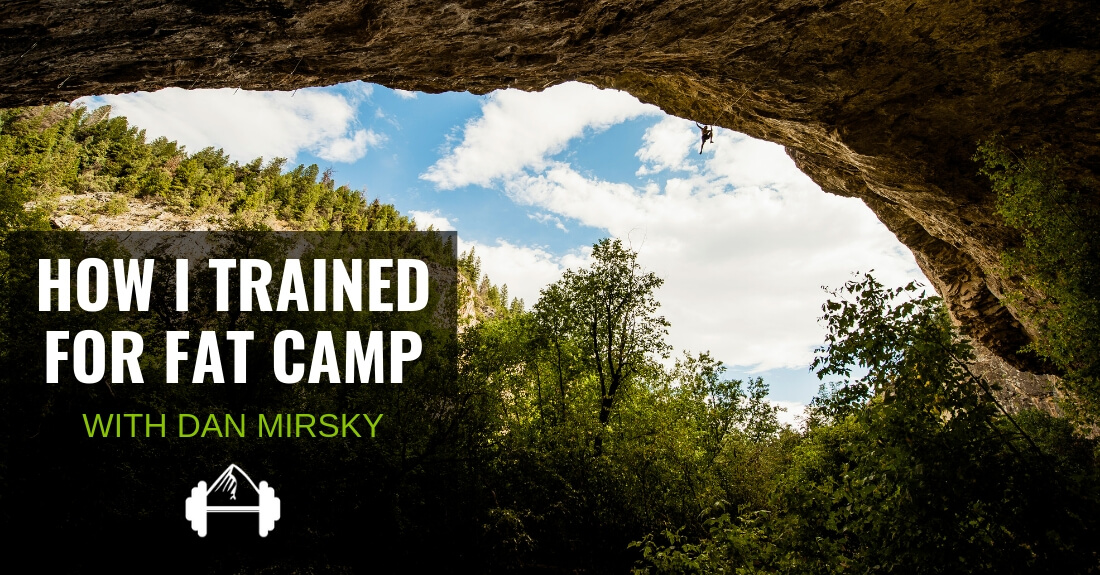 Dan Mirsky is one of the most passionate and driven climbers I know. When it comes to putting his head down and working his projects, Dan is as dedicated as they come. Dan is also calculated and driven with his training. If he thinks something is going to improve his climbing, he'll put the work in.
This dogged approach both to training and trying his projects has given Dan a tick list most of us can only dream of. While Dan has amassed 5.14 ascents all over the country, Rifle Mountain Park is his home and primary stomping grounds. Having worked his way through the majority of the routes in the canyon, Fat Camp, one of Rifle's hardest, was an obvious next step for him.
This point, however, is where this story leaves the typical script of "such-and-such strong climber had a goal, trained hard, tried harder, and sent." Having been there for a lot of Dan's campaign on Fat Camp I can safely say he wasn't failing because of some physical shortcoming or because he wasn't trying hard enough. What he had run into was a point where what had worked for him in the past was no longer working. This is a really hard place to be and it's easy to default to thinking that doubling down and doing more of the same is the answer. After all, it's worked for so long, why won't it work now?
In this installment of the TrainingBeta How I Trained For Series, Dan digs into the process he had to go through mentally to get himself back to a point where he was ready and capable of trying a hard route in a positive and productive way. I was there during a lot of the time Dan recounts in this article, and I can definitively say that this process and the work he had to put in didn't come easily for him. However, even though it wasn't a comfortable or super enjoyable process, Dan dug into these issues and came out not only climbing better, but happier than he was before.
When you read this article, resist the temptation to write off what Dan is talking about saying "Yeah, but I don't have those issues so I don't have to worry about these things." You may not have to confront the same hurdles as Dan, but if you push to find your limits in climbing you are going to have to put in the work that makes you uncomfortable, is hard to quantify, and is generally less fun or pleasant to deal with. Everyone does. Use this article as a reminder that while physical training can seem like a golden ticket to the upper grades, it's the climbers who are willing to put the work in across the board and approach improving as a climber holistically that are going to get the furthest.
~ Matt Pincus
How I Trained for Fat Camp
Finding Balance in Being Yourself
I tried Fat Camp in the Fall of 2017. It was a roller coaster ride: progress, then travel, then regaining momentum, then more travel, then rain, then wet holds….
On October 10th, the route was basically a waterfall. Miraculously, by November 5th, it was dry enough to climb on. I had a choice to re-engage or call it a season. Giving up has never been something I am good at, even when it is clearly time to walk away. I augured in and got back after it. I had already made plans to spend December in the VRG and I knew climbing in the Wicked Cave in Rifle was going to be poor prep for the Blasphemy Wall. "Oh well," I thought, "If I send Fat Camp, it will be worth it". That's what I told myself…
Fast forward to December 3rd and it's still perfect in Rifle, but I can see the season closing down in the forecast. I've been struggling to find people to climb with for weeks, but I am close. I go to the canyon for one last day. I put in two really good efforts but neither gets me past my stuck point 3/4 the way up the route. Demoralized, I go back home and pack for the VRG. I wake up the next day to find the impending weather doom has held off for one more day.
With no partner and no plan, I drive to the canyon anyway. Luckily I find some folks to warm up with and a belay on Fat Camp. Finally, I break through making it past my high point and to the best rest on the route – an awkward sideways kneebar. I stay until my legs start screaming, I shake out my calf and then I go back in for more rest. I stay until I am certain I can climb the last boulder – a long V8 out the roof at the top of the Wicked Cave that culminates with a feet-cutting dyno at the lip. I know my beta. I have done the work. It's time to send. I have always been good in these moments and always said one of my strengths as a project climber is making sure I go to the top the first time I get through my redpoint crux.
I launch, I climb the first few moves perfectly, then the unthinkable happens: I am getting ready to stick the jump and I totally skip the last set-up move in my brain. At the last moment, I watch helplessly as my hand misses a key side pull that puts you in position to jump for the lip. I fall off in what felt like .25X speed of real life. I was crushed, demoralized, and depressed. I don't think I got over it until April when I was sitting on a plane to France. France is where things changed, but before I get to that let's back things up a few years.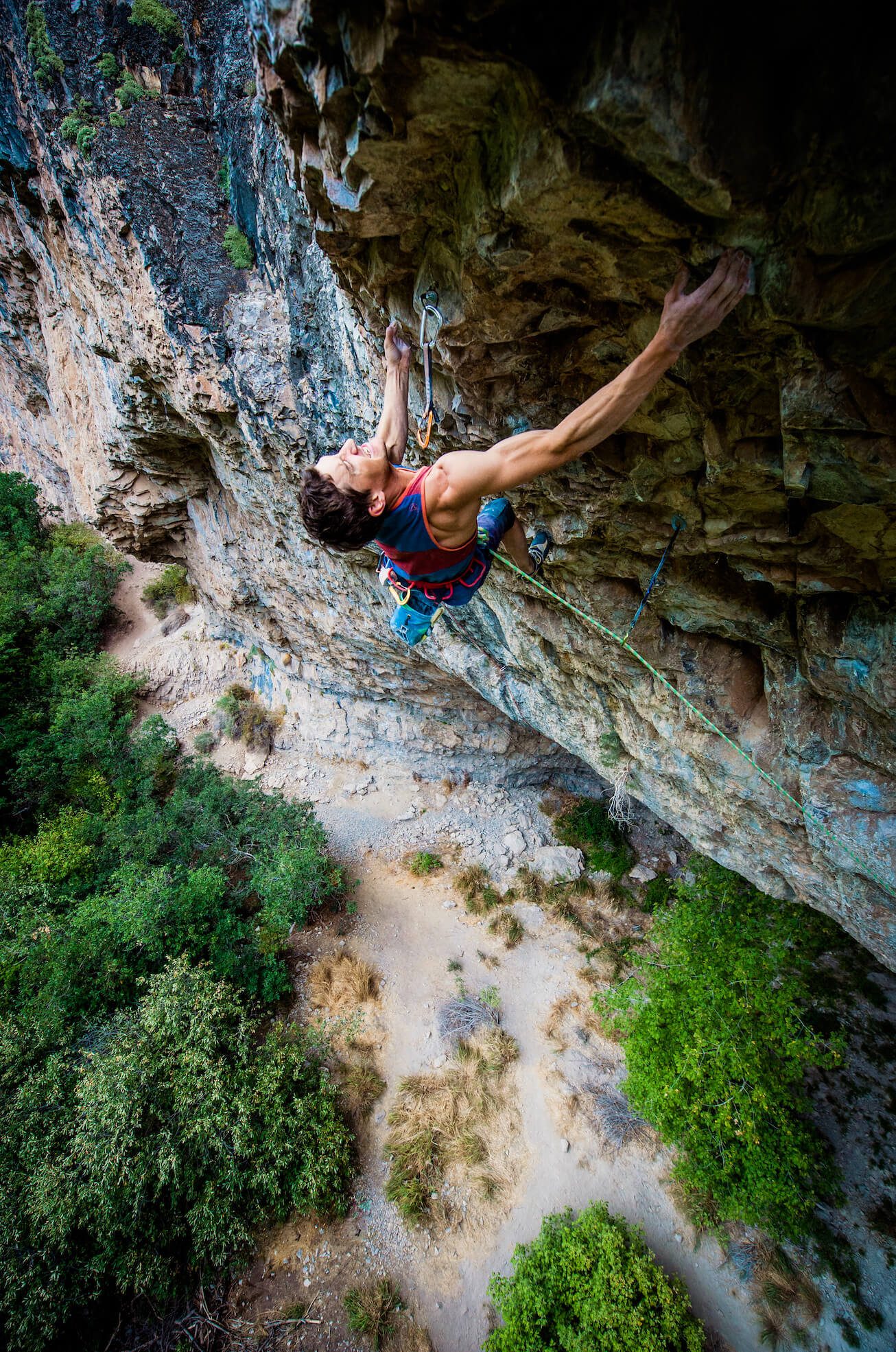 It Started in the Gym
A couple of years ago, I had a rad opportunity to experience the world of training as an athlete. I worked hard and really found that with dedicated training I was able to transform myself physically as a climber. Things I always saw as my weaknesses became strengths. I felt stronger in ways I had thought were not possible for me, and I learned how to really try hard. Climbing literally became more fun and I became healthier and less injured as well.
This experience led me to become interested in working with other people as a coach, helping them to get stronger and as well as to continue pursuing my own training so I could achieve my goals in climbing. Coaching and training other people has been extremely rewarding. Helping my athletes improve and achieve their goals has become an integral part of who I am and what I put my energy towards. Feeling empowered, I dug deeper into coaching and training and continued to see gains in my own training.
Losing the Plot
However, for myself the gains I was making started to come more in the gym than at the cliff. Weights went up. Distances on the campus board improved. Limit bouldering performances improved. All that was great and kept me stoked, but I'm a route climber and I wasn't sending routes.
It frustrated me because I was so sure I was getting stronger, but it wasn't translating to my climbing performance the way I had hoped. What I realized is that I was undervaluing the other variables in the equation for improving as a climber: technical skills and, perhaps the most important for me, the mental game.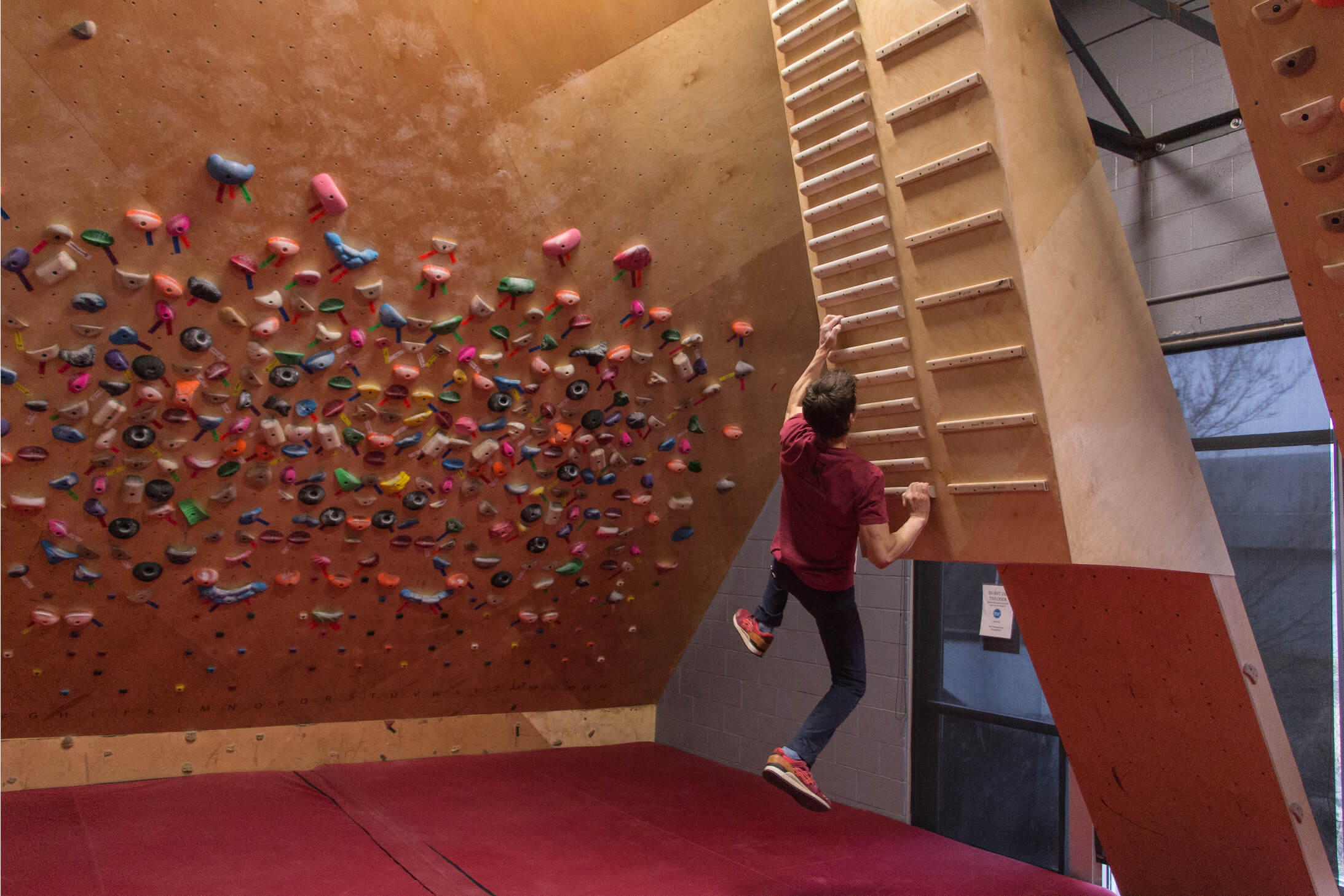 The reality is climbing is a skill-based sport before it is a strength sport and I truly believe redpointing hard routes is more about your mental game than your physical one. I believe these components–skills and the mental game–are both overlooked in today's climbing world.
Training is hot right now. Moonboard videos on Instagram abound and people can be overheard at the cliff, coffee shop, and bar debating different hangboard protocols. I think a lot of us have gone down the rabbit hole of training strength and power to infinitum. It's fun, it's rewarding, and while it's hard, progress is highly quantifiable. When you get into it, it's kind of intoxicating and hitting a new PR on the hangboard or campus board or even in the weight room can start to feel like an end in itself instead of a means to an end.
With these highly quantifiable targets to aim at, it can be easy to lose sight of the goal: sending harder and improving as a climber!
The reality though is that physical training is only part of the equation. If you don't practice the other aspects of climbing well, you won't be able to make use of the gains you've worked so hard for in the gym. The most often cited example is footwork. If you can't use your feet effectively there's only so far your campus power will take you. That said, footwork is only the tip of the iceberg. Breathing, resting, pacing are all of the less measurable, less glamorous "skills" but they need to be given deliberate attention for us to climb our best.
Additionally, and probably most importantly, our brains need to be as well-trained as our fingers. To do this, we need to climb and we need to regularly put ourselves in the situation of trying hard and really wanting to succeed.
When we aren't climbing we need to dedicate time to training our minds so that we are ready for those moments when it really counts. Practices I have used to do this include:
Visualization before climbing to prepare our mind and body to perform as well as possible on the route.
Consciously developing a positive self-image with a self-affirming mantra in order to maintain confidence and genuine belief in ourselves when the going gets tough.
Meditation to improve our ability to be present and in the moment.
Whatever methods resonate with you, this can be hard work, it can be uncomfortable, and it might even bring up issues or aspects of ourselves that we don't like. Furthermore, improvements are hard to measure. They take practice, patience, and thoughtfulness. I believe that is why many climbers don't put as much energy into improving these areas, and I know that was the case for me.
Even though the mental side of things can be difficult and uncomfortable to work on, it has a huge impact on our climbing performance. With effort, we can improve and this will allow us to be more confident, more present and more in the moment with less of the noise in our heads. This is exactly the state of mind we need for hard redpointing and it requires work to get ourselves there mentally.
It took me a while to get to this realization. For a while, I was trying hard routes I knew I could do and I wasn't getting them done. I would go back, train, and try again. More or less the same result would follow.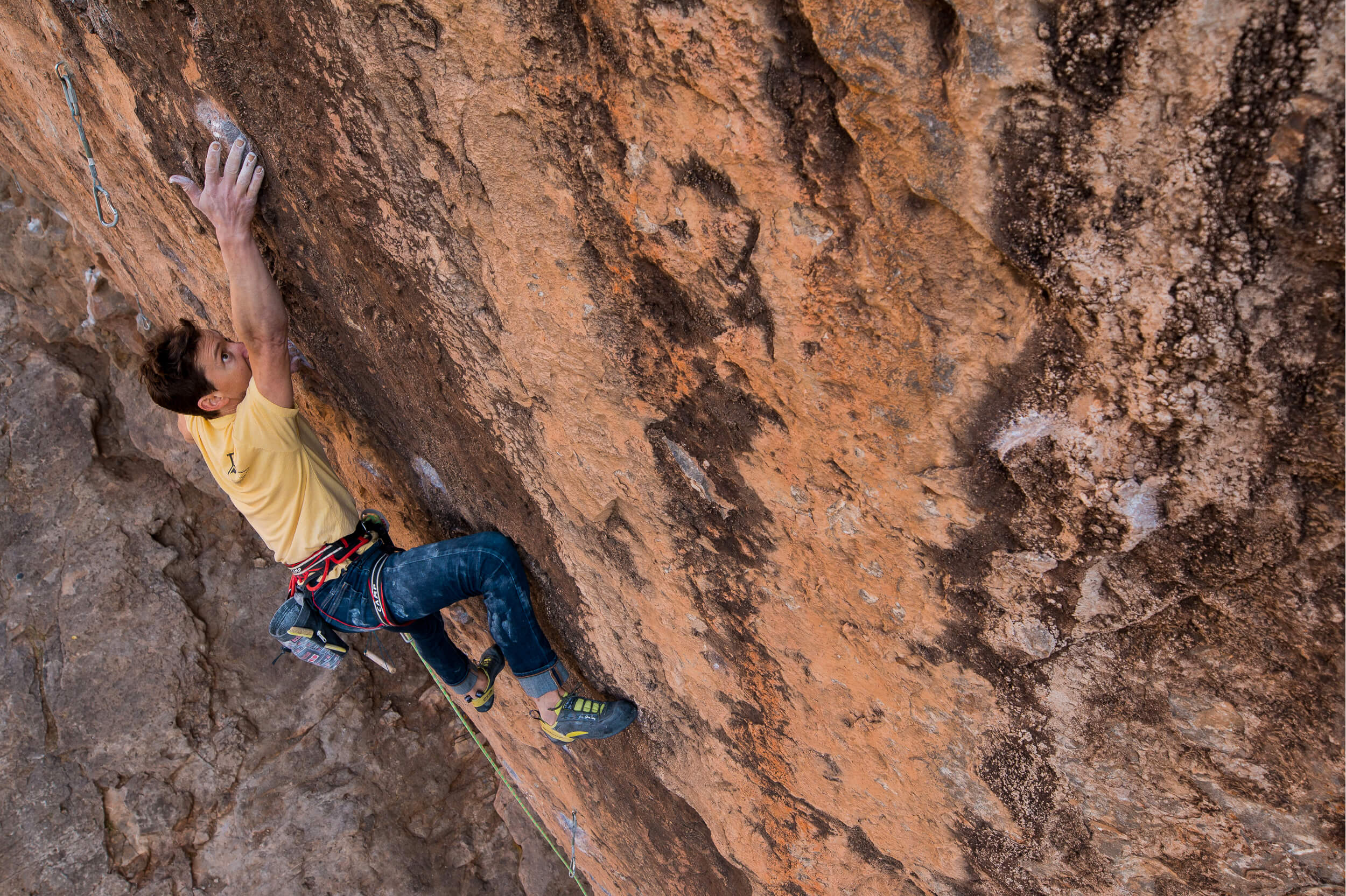 As I mentioned, I am pretty stubborn, so this went on for a while, which brings us back to my winter VRG season following my campaign on Fat Camp. Suffice it to say it didn't go well and after this disappointing winter season, there was no more denying to myself that I was getting burned out and what I was doing wasn't working. I finally decided it was time to change things up.
Breaking the Routine
That's when I called a good friend with a similarly flexible schedule and said, "Let's go to France." Luckily he said, "Cool, sounds like a great idea!"
I had never been to France before, I had every route to do and a country to explore. It was literally the exact opposite of what felt like a monotonous circuit in the US made up of the same places, the same people, the same routes, and the same results.
Before I even looked at a guide book, I made a decision. I was not going to project on this trip. Instead, I made the unofficial goal of sending a new 8a/5.13b or harder a day.
On the six week trip to the South of France, I traveled to three different amazing climbing areas: The Gorges Du Tarn, Saint-Leger and Ceuse. On the trip, I don't think I sent a single route that took me more than four redpoint attempts. I sent nothing harder than 8b/5.13d and I successfully walked away from an 8b+/5.14a when rain caused frustrating seepage.
Most importantly, though, I had fun! I sent often, trying hard and succeeding became my norm. I felt more like myself. I had confidence and a positive self-image when I was climbing. These things are not always there for me and they'd seemed even more elusive in recent years.
Fat Camp Round 2
When I returned from France, (which I did only because I had already booked a ticket home, otherwise I would happily still be there now) I went back to Rifle for the Spring season. In heading to Rifle, I felt genuinely stoked to step it up and try a next-level route. Fortunately, I had just the route to do that on: Fat Camp.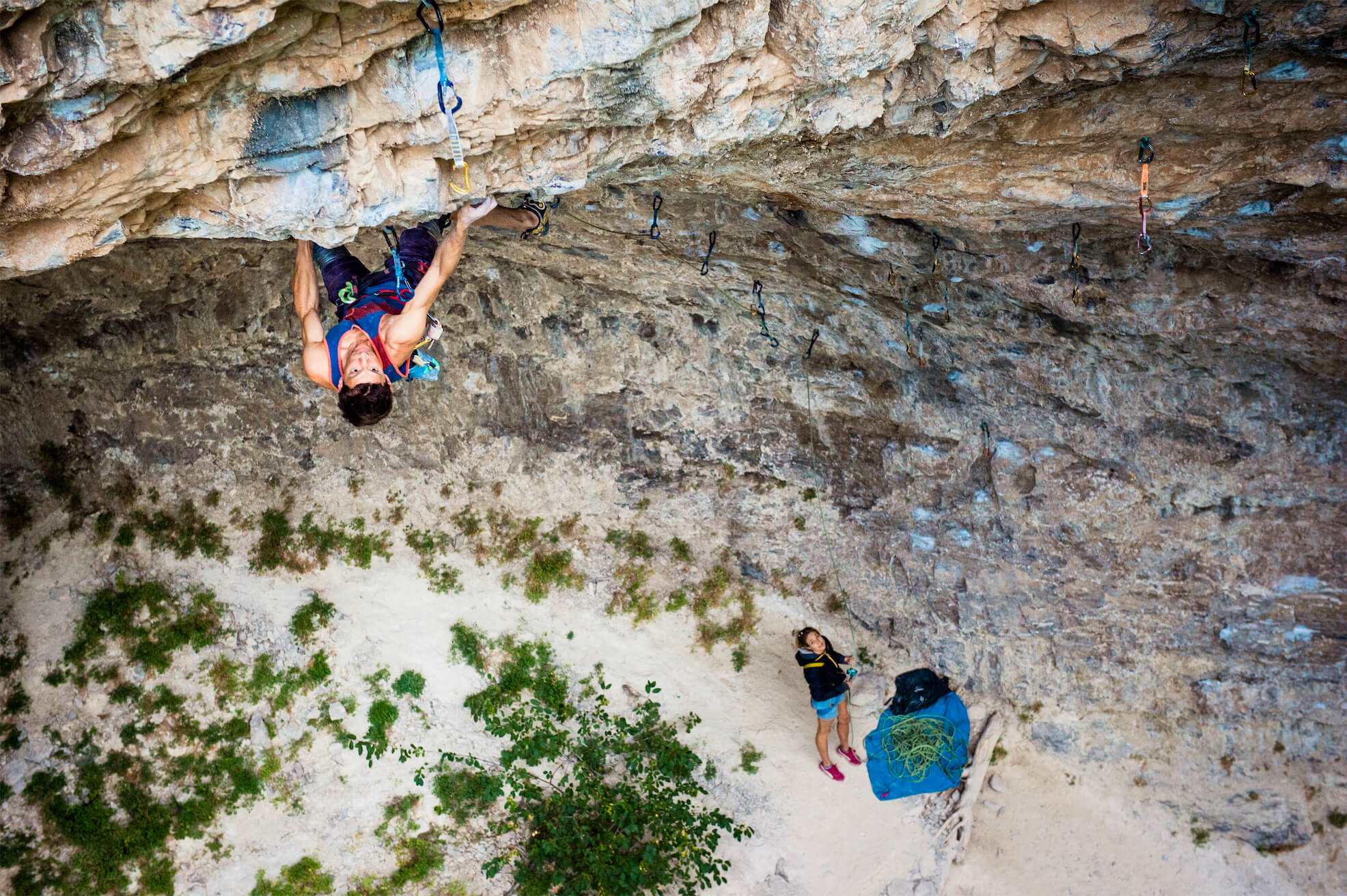 Driving into Rifle Canyon on my first day back, I was also quite nervous that my tour of 8a's and 8b's, along with a steady diet of croissants, goat cheese, and rosé in the south of France was poor preparation for the steep, unrelenting style of Fat Camp. I hadn't climbed on a Moon Board in months, and the only hangboarding I'd done was to warm up my fingers on chilly days in Ceuse.
In addition, I knew that having had the experience last year of being so close, I was going to have to work hard to not get frustrated this year. In the past, coming close and not succeeding has created a mental struggle for me where the temptation to compare myself to my past efforts has been very detrimental. Rather than get sucked down this rabbit hole, I set my intention to use my past experience to stay confident that I could send this route without getting caught up in comparing my current and previous experiences on the route.
A New and Unique Experience
I place a lot of importance on having a new and unique experience each time I climb. For me to be fully present and in the moment means not trying to recreate a feeling of how a climb has felt before. Instead, I try to take the information learned from previous efforts, make adjustments accordingly, be fully present in the moment when I climb, and be open to having a new experience, new feelings and the possibility of a new result. This isn't always easy and the more times you try a route, the more challenging this can be. I recognized this going into my second round on Fat Camp and specifically strategized my approach to create new and unique experiences each time I tried it.
In general, once I was on the route, I felt different than I did the previous fall both mentally and emotionally. I had found a place mentally where my thought wasn't so much about if can I do Fat Camp, but when will I do Fat Camp.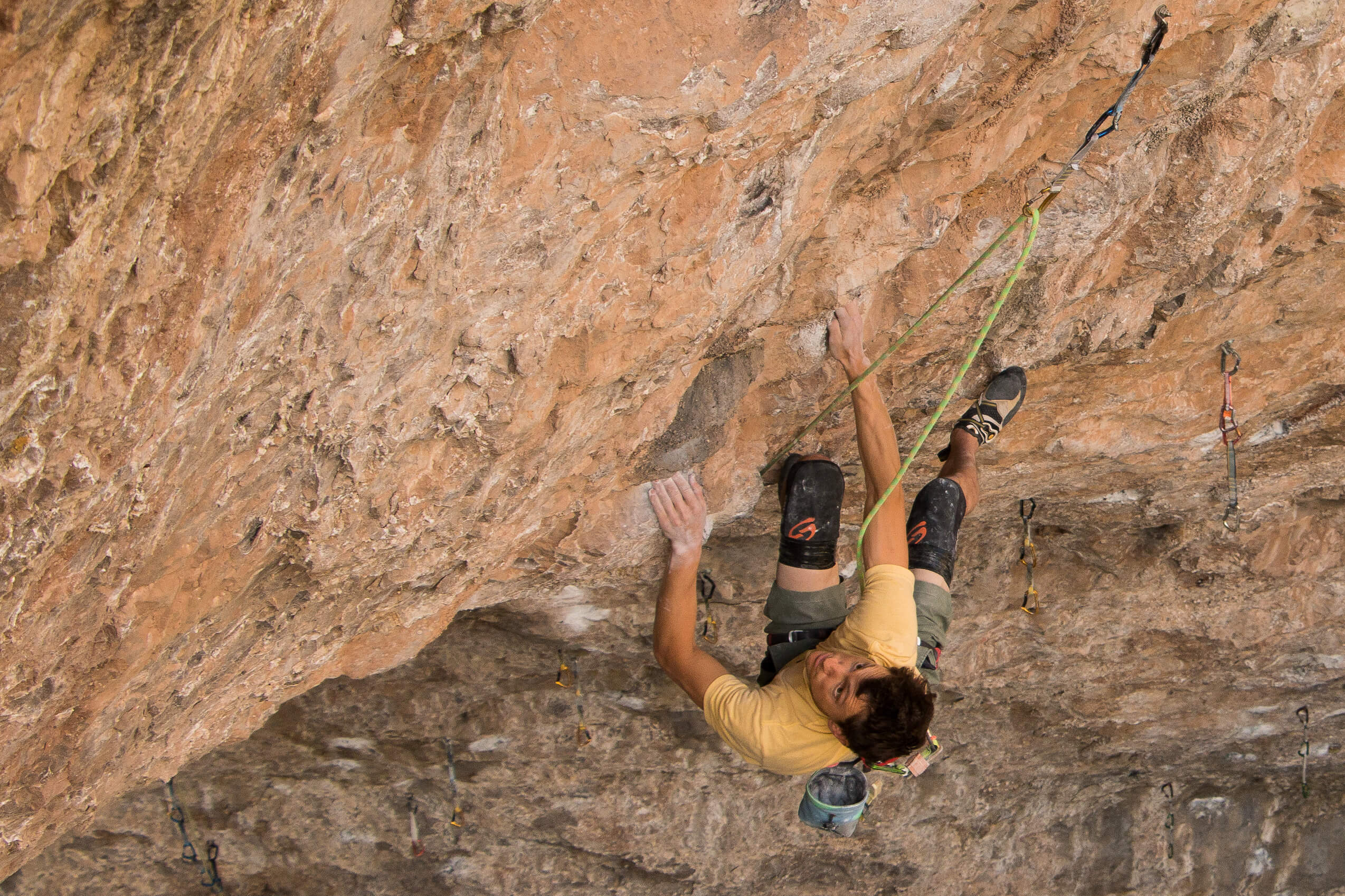 Having put myself in a positive headspace, I devised a plan and made myself a list of 10 goals to accomplish on the route (the 10th being redpoint). Each goal was intended to build on the previous one and get me closer to the next goal and eventually sending. Ultimately, there are a lot of ways to break up a route and approach projecting. I've written about the projecting process in more detail in this TrainingBeta article The Projecting Process, but here's my specific list of my nine building block goals on Fat Cap and some rules I made for myself copied directly out of my climbing journal:
Steps to get to sending:
Link from ground to undercling crux (achieved 6/3, 6/4)
Link from bolt 3 to pancake rest (Achieved on 6/1)
Link from pancake rest to kneebar rest. (Achieved on 6/1)
Link from bolt 3 through boulder problem after the pancake rest (achieved 6/4)
Link from ground through undercling crux (achieved on 6/3)
Link from pancake to top (6/22)
Link from ground to pancake (6/6)
Link from bolt 3 to main kneebar rest.
Send!
Rules.
Try from the bottom and don't stop till you fall once each day.
Only do the undercling crux starting at the 3rd bolt. (left hand on jug right hand on jump edge)
Link the boulder problem once each day.
Do the goals and stop don't over climb.
Before skin gets bad, stop and tape.
Each day I climbed on the route, the goal I was on became my route and I would try it until I "sent." Once that box was ticked, I would move on to the next goal. The goals kept me motivated, kept me making progress towards sending and kept me from comparing my efforts to my previous attempts. On some level, the idea that the ninth goal (send) was just one step past the eighth helped with the anxiety of the redpoint.
I started in on the 1st of June and my goal was to send by the end of the month. I put my head down and got after it. My "sends" weren't as glamorous as they were in France, but I steadily worked my way through my goals and kept my confidence high and, to my surprise, even though I hadn't climbed on a route of this level in almost two months I felt pretty good, physically speaking.
By the 20th of June, I was back to my 3/4 height stuck point from the previous season. Over the next week, I had good attempts and bad attempts. Some days on the route I felt tired and I started wondering if I was getting too fatigued on the specific moves. Instead of flogging myself for feeling weak and punishing myself with more volume and tries, I rested. I kept my focus and stayed confident that I not only could–but would–send.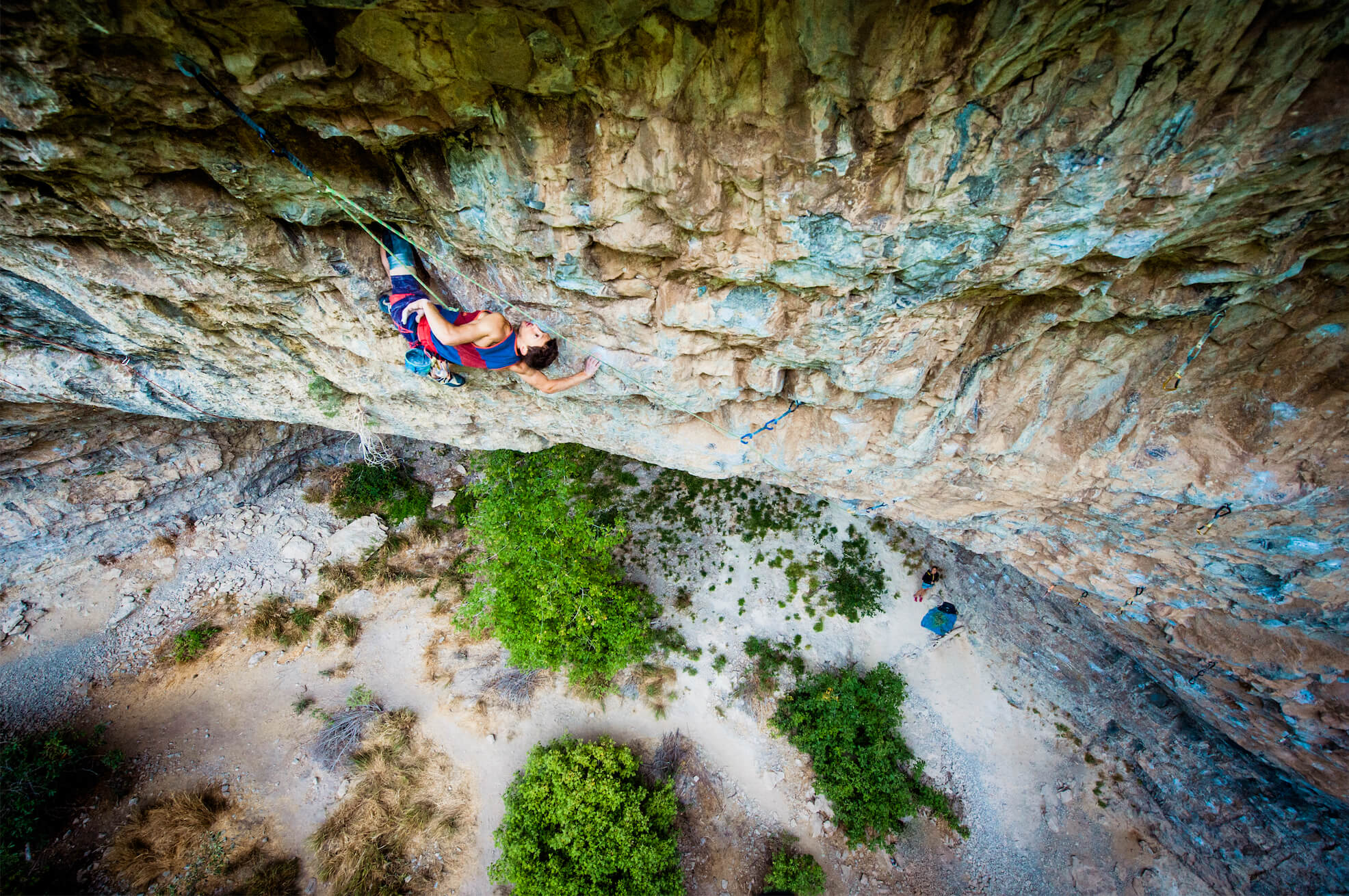 Breaking Through
On the last day of June, I once again broke through, I was back in the kneebar, but this time it was different…
Earlier that week, I had an interesting experience while getting some bodywork. The therapist remarked to me that I had a very mellow energy for a high-level athlete. I have always known that about myself but had come to see that not as a good thing. In the training world, it's more about recruiting, getting psyched trying hard, being explosive, etc. If you are too mellow these things are hard to do. Somewhere along the way, I decided I needed to be that way when I climbed. When I explained that to this person, she had a different perspective. She thought it was more important to embrace my natural energy: mellow.
This idea struck a chord with me and started me thinking. I realized that in a way I had re-found myself in France and had been climbing in my natural way. I really embraced this idea and firmly believe that when it is time for me to find flow, to be in the zone, it is the most important time to embrace my natural energy and to be myself. I carried that with me into the Wicked Cave that afternoon, when once again the forecast seemed to be indicating that sending season was nearly at its end and the hot summer temps were coming. Instead of getting nervous and anxious, as I have the propensity to do, I spent some extra time before I climbed just hanging out cheering on my friends, taking in the vibe. When it seemed right, I tied in. Just before I launched, I turned around and took in the view, the bigger picture, and let my focus expand a little. I felt relaxed and I pulled on. While climbing, I still tried hard, really hard, but I had succeeded in finding a positive, confident headspace and I carried it with me back to the awkward, sideways kneebar rest.
Again I stayed in the rest, making sure I was recovered for the final boulder problem. This time though, I just felt ready. I engaged, focused and executed but in my own sort of mellow way. The next thing I knew, I was at the anchor, and the thought occurred to me that I should scream or something to celebrate. Up to that point, I don't think I had made any noise because I was truly in the zone, in the moment, being myself.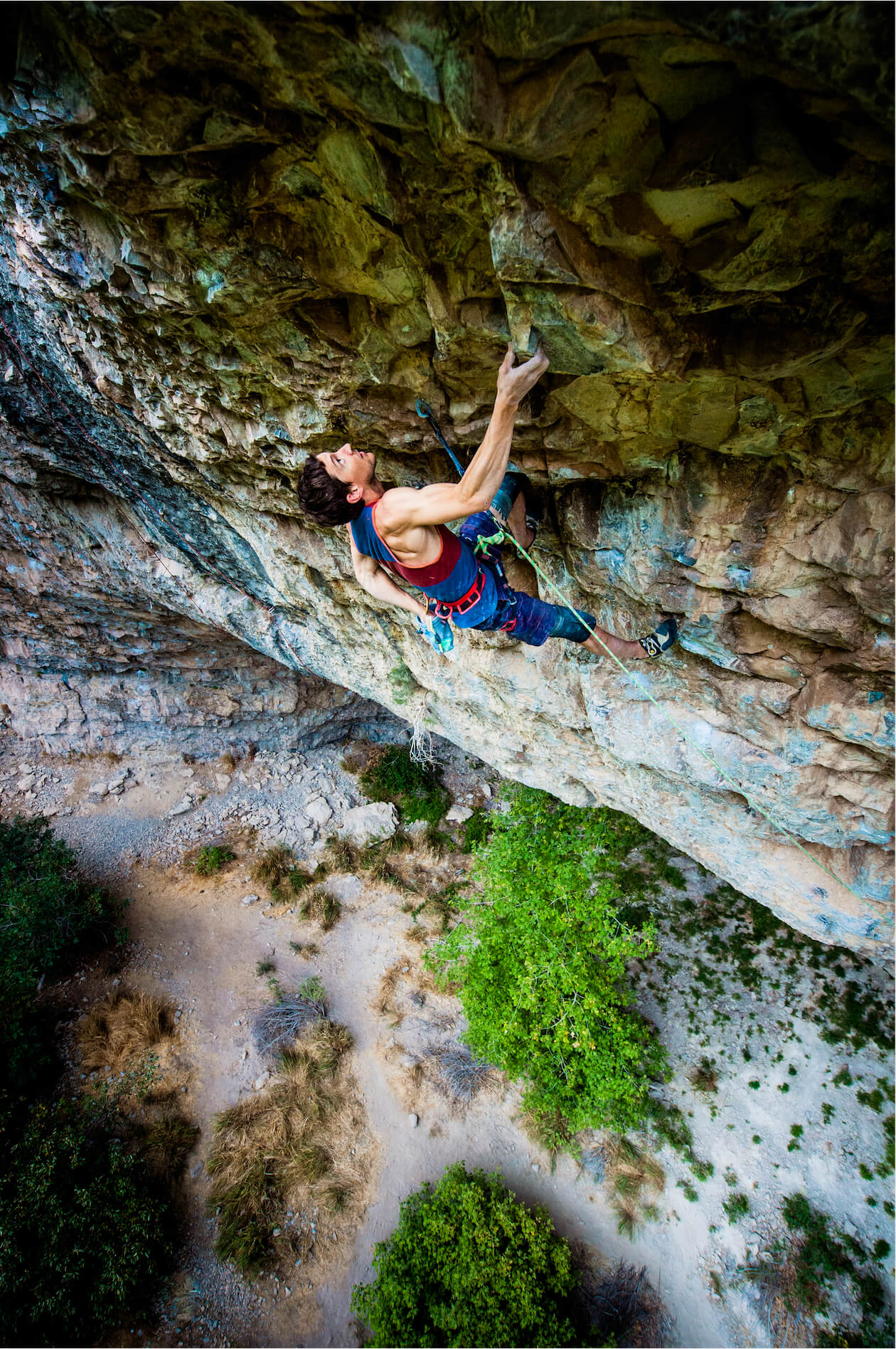 Moving Forward
Now, to be clear, I am not saying that training isn't important. In fact, I am certain that I built strengths, developed energy systems, and improved power, all through training, and only as a result of that work did I give myself the opportunity to climb a route at the level of Fat Camp. This route is likely my hardest send to date and I couldn't have been capable of doing it without the physical preparation. What I am also saying is re-finding myself, improving my confidence and creating a positive self-image through repeated success, is what ultimately got me to the chains.
We all need balance, I think the recipe is not the same for any of us. Some need to prioritize developing strength and power or anaerobic capacity, others need improved skills and efficiency of movement, and some of us just need to be ourselves. The reality is that we need all of these things. The challenge is finding the balance that is right for you. I think about this more now and I genuinely believe it has helped to improve my climbing and my coaching.
Our brain will believe the story you tell yourself, so make it a good one!
Cover photo: Dan Mirsky sticking the lip on Fat Camp | Photo: Claudia Ziegler
About The Author: Dan Mirsky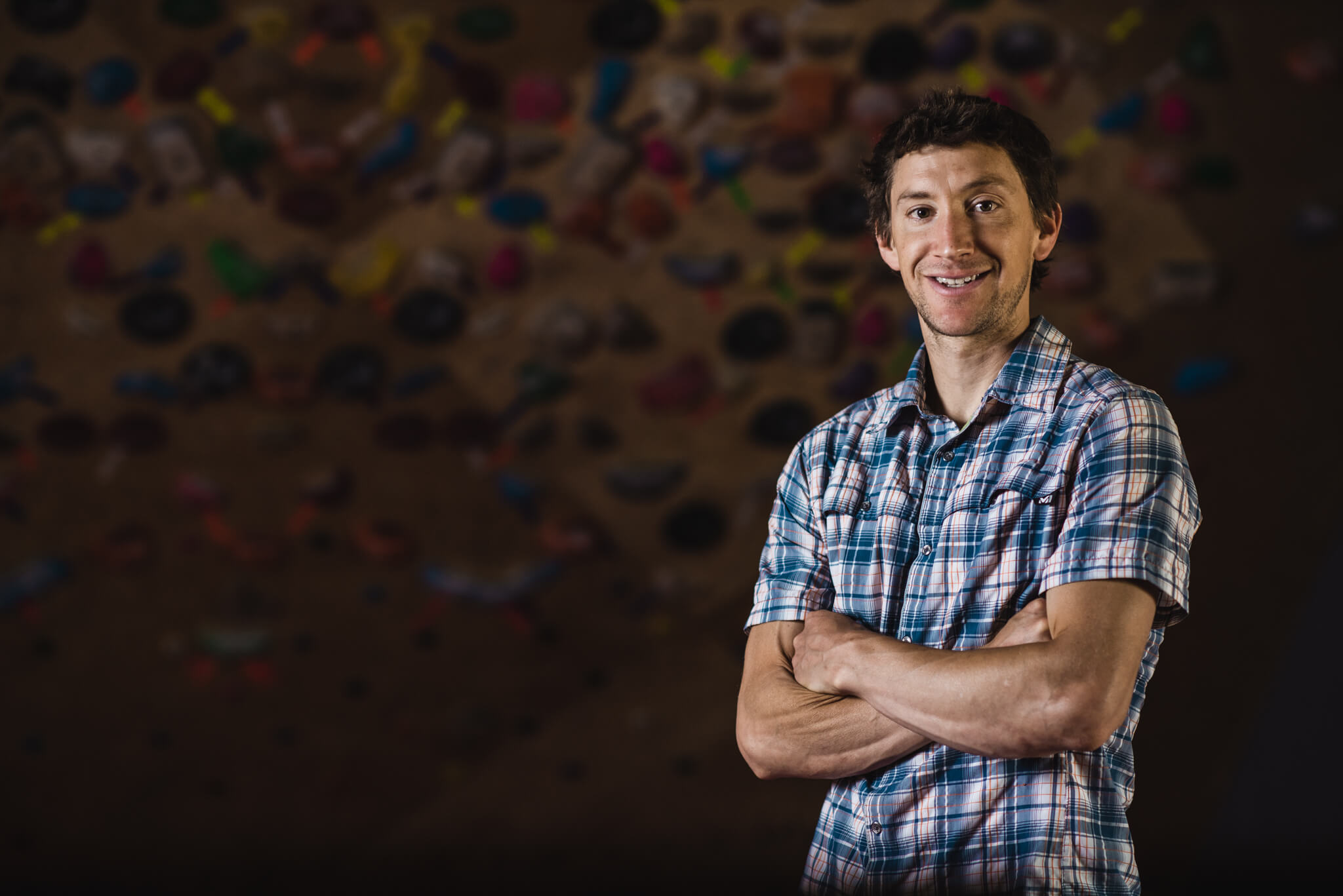 Dan Mirsky is a New Yorker who got stuck in Colorado years ago. He has been climbing in Rifle for over a decade and has no plans to ever stop. When he is not climbing in Rifle, Dan can be found traveling in search of warmer temperatures and great climbing. In the last few years, Dan has also established himself as a successful climbing coach and trainer working with climbers of all levels out of The Front Climbing Gym in SLC.
After 10 plus years of hard sport climbing, Dan still considers himself a student, learning how to be a better rock climber every day. He has redpointed 30+ 5.14 rock climbs up to 5.14c all across the country, including Fat Camp (14c), Route of All Evil (14b), 50 Words for Pump (14b), Bad Girls Club (14c), Lungfish (14b), The Crew (14c), and an FA of Solid Gold (14c), the direct line to Golden, to name a few. He is always psyched to climb and psyched to see others succeed. He also has an impressive memory for beta, so if you're projecting something he's done he can give you all the details….
TrainingBeta is a site dedicated to training for rock climbing. We provide resources and information about training for routes, bouldering, finger strength, mental training, nutrition for climbers, and everything in between. We offer climbing training programs, a blog, interviews on the TrainingBeta Podcast, personal training for climbing, and nutrition for climbers.


Click here to view full article