Click here to view original web page at www.baystreet.ca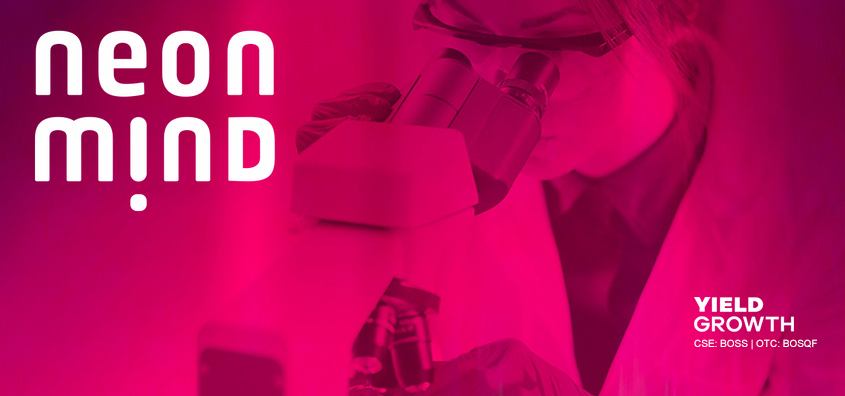 About two weeks ago, The Yield Growth Corp. (CSE: BOSS) (OTCQB: BOSQF) completed the acquisition of a library of edible mushroom formulas as part of an initiative to capitalize on an accelerating trend towards mushroom edibles. Management is wasting no time building a footprint in a global market forecast by analysts at Research and Markets to grow nearly 8% annually to reach $62 billion by 2023, a fact that could one day have Yield Growth a household name in the industry alongside Half Hill Farm, Concord Farms and Real Mushrooms.
Rich History + Modern Science = Great Opportunity
Mushrooms and other fungi have played an important part in wellness for centuries. Reishi mushrooms, believed to be the longest used fungus for medicinal applications, were integral to ancient Chinese medicines. Research in the last century has given rise to discoveries for antibiotics, diabetes medicines, malaria treatments and more derived from fungi.
Ancient wisdom is colliding with modern science at a time when consumer demand is growing for dietary supplements in a bid by people to remain healthy and disease-free.
Known to be rich in pantothenic acid, vitamin B, vitamin D, antioxidants and phosphorus, the list of medicinal benefits of mushrooms keeps growing. Studies have shown cordyceps (a scientific name for medicinal mushrooms) increase exercise performance, improve memory and sex drive, slow growth of tumors, can improve heart health and even can have a positive protective effect on the brain.
To that point, Fortune Business Insights, just like Research and Markets, foresees a "steep rise" in the global functional mushrooms market in the upcoming years, underpinned by a bevy of drivers, including rapid urbanization, changing lifestyles and increasing per capita income, amongst other things.
Investors would be wise to also consider the potential for psilocybin, the component of "magic mushrooms" responsible for the psychedelic effect, when evaluating the overall mushroom market, as the potential for new drug development is very real. The summary of a recent study by the University of Zurich concluded, "Mindful meditation enhances the positive effects of a single dose of psilocybin by increasing empathy and reducing egocentricity."
It is with good reason that the esteemed Johns Hopkins Medicine has raised $17 million to launch a new Center for Psychedelic and Consciousness Research to study compounds like LSD and psilocybin for a range of mental health problems, including anorexia, addiction and depression. It is the first center of its type in the U.S.
Moving with a Purpose
In a matter of just weeks, The Yield Growth Corp. has established a new subsidiary (Flourish Mushroom Labs Inc.) focused on the edible mushroom market opportunity; completed the acquisition bringing a catalog of edible mushroom formulations under their umbrella; and brought on sales broker veteran Amber Allen as Head of Sales for retail distribution.
This morning, the advancements kept coming, with the parent company saying that it has completed initial development of a formula for mushroom coffee to launch a new line of mushroom-infused coffee mixes via Flourish Mushroom Labs. The strategy is to commercialize a full-line of mushroom coffees whose recipes include the likes of Reishi, Shitake, Lion's Man, Turkey Tail, Chagas and Cordyceps – in other words, mushrooms widely acknowledged to have health benefits.
Get Ready for Takeoff
Yield Growth expects to launch the new coffees in the first half of 2020.
Yield Growth CEO Penny White expressed that the company will leverage some of the existing distribution network already available for purveying Yield Growth's hemp products. With more than 200 product formulations in its portfolio, BOSS has received acclaim for its Urban Juve lineup of all-natural, hemp-based skincare products, particularly its Skin Awakening Anti-aging Serum that has been featured in Vanity Fair U.K., British Vogue and Elle Canada. Through a series of distribution agreements, Yield Growth has access to more than 8,000 retail locations across Canada, Colombia, Brazil, Greece and Cypress for its Urban Juve products.
Untapped Psychedelic Value
While there is an near-term opportunity in the functional mushroom market, Yield Growth is also evaluating potential for psilocybin product development. "[W]e are also interested in how magic mushrooms induced psychedelic states of mind may have therapeutic benefits," said White.
This is a matter of prescient analysis to get in front of what is emerging as an industry with considerable light being cast upon it. Former Canopy Growth (NYSE: CGC)(TSX: WEED) co-CEO Bruce Linton, who built Canopy into the world's biggest cannabis company, sees similarities between the genesis of the legal marijuana markets and where psychedelics are today. "There's probably untapped value, which will only go to the people who are at the beginning and bold," Linton said recently in an interview with The Canadian Press.
Take note that investors are starting to bet big on the future of psychedelic medicines. In addition to people like Linton hopping into the space and Johns Hopkins' new center, there is more quantifiable evidence of interest in ATAI Life Sciences raising $43 million earlier this year in a series B round at a valuation of $240 million.
Yield Growth is looking at this market opportunity in combination with its other revenue-generating operations while it is carrying a valuation of just $21.8 million.
Legal Disclaimer/Disclosure: While all information is believed to be reliable, it is not guaranteed by us to be accurate. Individuals should assume that all information contained in our article is not trustworthy unless verified by their own independent research. Also, because events and circumstances frequently do not occur as expected, there will likely be differences between any predictions and actual results. Always consult a licensed investment professional before making any investment decision. Be extremely careful, investing in securities carries a high degree of risk; you may likely lose some or all of the investment. Furthermore, it is certainly possible for errors or omissions to take place regarding the profiled company, in communications, writing and/or editing. Nothing in this publication should be considered as personalized financial advice. We are not licensed under any securities laws to address your particular financial situation. No communication by our employees to you should be deemed as personalized financial advice. Please consult a licensed financial advisor before making any investment decision. This is a paid advertisement and is neither an offer nor recommendation to buy or sell any security. We hold no investment licenses and are thus neither licensed nor qualified to provide investment advice. The content in this article is not provided to any individual with a view toward their individual circumstances. Baystreet.ca has been paid a fee of forty thousand dollars for The Yield Growth Corp. advertising from the company. There may be 3rd parties who may have shares of The Yield Growth Corp. and may liquidate their shares which could have a negative effect on the price of the stock. This compensation constitutes a conflict of interest as to our ability to remain objective in our communication regarding the profiled company. Because of this conflict, individuals are strongly encouraged to not use this article as the basis for any investment decision. The owner/operator of Baystreet.ca has purchased shares of The Yield Growth Corp. through a private placement and does not intend on selling any shares within 72 hours of this updated publication date after such point we reserve the right to buy and sell shares in the open market, no further notice will be given. By reading this communication, you agree to the terms of this disclaimer, including, but not limited to: releasing Baystreet.ca, its affiliates, assigns and successors from any and all liability, damages, and injury from the information contained in this communication. You further warrant that you are solely responsible for any financial outcome that may come from your investment decisions.
Click here to view full article