Click here to view original web page at www.dogster.com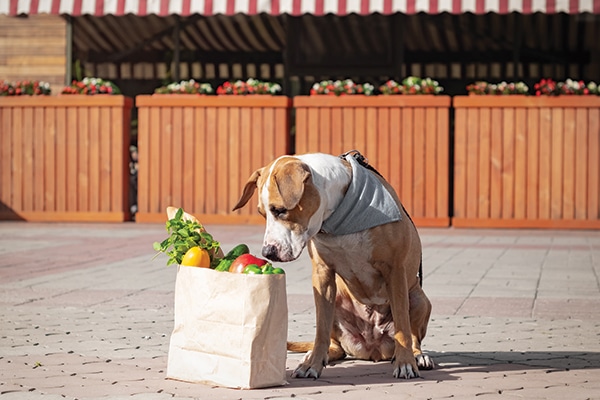 Have you ever perused the produce section of your grocery store and marveled at the display of fresh strawberries in the middle of winter? Or wondered how dozens of apple varieties are available all year round? Welcome to the transportation age, where fruits and vegetables grown halfway around the country — or the world — can wind up in our stores and on our plates any time of year.
Sure, it's convenient, but at a cost: higher prices, loss of freshness, decreased nutrients and unwanted chemicals, to name a few. The apples in your store's produce section could be a year old and treated with fungicides and a chemical called 1-methylcyclopropene (1-MCP) to slow down the natural ripening process.
So, how do savvy shoppers snag the freshest, healthiest fruits and veggies? They buy seasonally!
Purchasing local produce grown in-season has tons of benefits: It's typically less expensive because you're not funding a long trek from farm to store; it's fresher, which means packed with more nutrients; and it's less likely to be sprayed with pesticides or coated with other chemicals. You can also feel good knowing that when you buy seasonally, you're supporting local farmers. Score!
But wait. What's all this got to do with your dog?
Fido and Fluffy can reap the health benefits of in-season produce, too! Here are my top seven produce picks you, and your dog, can enjoy right now.
Apples
Ditch the 1-MCP and opt for orchard-fresh apples bursting with polyphenols that defend the body against oxidation from dangerous free radicals. Apples help regulate blood sugar, protect the heart, benefit neurological health and provide anti-cancer benefits. They may even boost memory and help protect against neurodegenerative brain disorders, such as Alzheimer's disease in people. Bonus: Apples are high in pectin, a type of soluble fiber that may help soothe irritated intestines and ease diarrhea.
Tip: Avoid the Granny Smith variety, which can be too acidic for some dogs.
Bell peppers
Bell peppers are packed with vitamins, minerals and antioxidants, including vitamin C, folate, potassium and beta-carotene. The red variety contain more than one-and-a-half times the vitamin C as green bell peppers and more than 10 times the amount of beta-carotene because they have ripened longer on the vine. Antioxidants in bell peppers are important in fighting free radical damage and protecting the body against cancer. Red bell peppers are also chock full of lutein and zeaxanthin for supporting eye health.
Tip: Never feed your dog spicy peppers, which contain capsaicin and can cause serious allergic reactions or gastric upset.
Blueberries
Fresh blueberries are nutritional powerhouses, packed with vitamins and minerals, including C, K and manganese. Their beautiful purple-blue hue comes from anthocyanins, phytochemicals that help reduce inflammation, fight cancer, improve memory and protect the heart. Pterostilbene is a potent antioxidant in blueberries that may help manage diabetes by reducing blood glucose levels, inhibiting development of cancerous tumors, boosting cognitive ability and reducing risk for metabolic syndrome.
Tip: Feed right in your dog's bowl, mix in with food, or freeze for a refreshing summertime treat.
Broccoli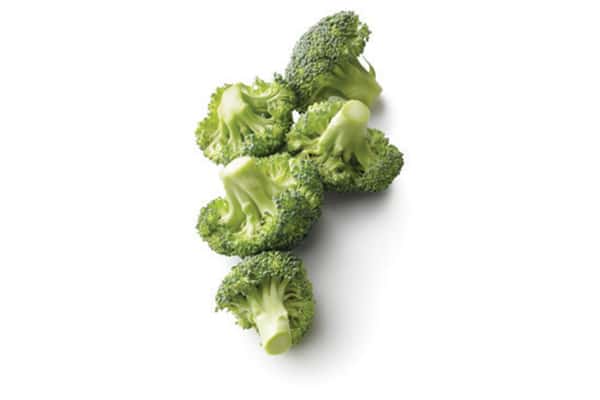 Broccoli is a member of the Brassica family, also known as cruciferous vegetables. Rich in vitamins C, E, K and folate, and minerals like potassium and magnesium, broccoli also contains
sulfur-containing compounds called glucosinolates. When glucosinolates break down, they form biologically active compounds, such as isothiocyanates and indoles that exert powerful anti-cancer effects, including protecting DNA from damage, blocking the spread of cancer cells and inducing cancer cell death.
Tip: Avoid for dogs with hypothyroidism, as isothiocyanates interfere with thyroid function. Cooking will help reduce this effect.
Cantaloupe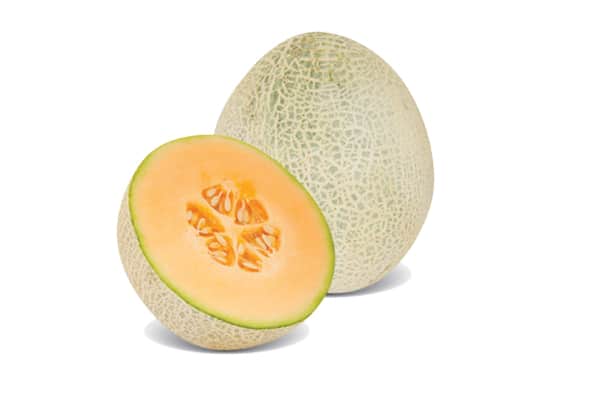 Sadly, cantaloupe is often associated with the pale-fleshed, dull-tasting version we find in breakfast buffets and withering fruit cups. But fresh, in-season cantaloupe, such as those found in local farmer's markets, is bursting with color, flavor and nutrition. Cantaloupe contains a healthy dose of antioxidants vitamin C, alpha-carotene and beta-carotene, as well as B vitamins, vitamin K, potassium and magnesium. Cantaloupe also contains lutein and zeaxanthin, two carotenoids shown to benefit eye health.
Tip: Cantaloupe makes a sweet, cooling treat your dog will enjoy on a hot day.
Peppermint
Peppermint is a cooling herb that can soothe upset stomachs and ease indigestion. It helps alleviate spasms and calm the muscles of the intestinal tract, enabling trapped gas to pass. Peppermint may also contain antibacterial, antiviral and antifungal properties. It's strong, so a little goes a long way. You can give your dog peppermint in the form of fresh chopped leaves. Start slowly and work up to about ½ teaspoon for a small dog, ½ teaspoon for a medium dog and 1 teaspoon for a large dog. Bonus: Peppermint will freshen your dog's breath!
Tip: Never give your dog human peppermint products, which can contain toxic ingredients such as xylitol. Avoid peppermint if your dog has gastrointestinal reflux disease (GERD), as it can worsen symptoms.
Zucchini
Zucchini is rich in vitamins including B2, B6, C, K, riboflavin and folate, minerals such as potassium and magnesium and anti-inflammatory phytochemicals. Zucchini is rich in fiber, making it an excellent food to support digestive health. Research also shows that zucchini can help rid the body of dangerous free radicals, decrease inflammation, lower blood sugar, benefit eye health and support healthy blood pressure.
Tip: Feed steamed or chopped raw. I find that most dogs easily digest zucchini, including the skin.
Of course, be sure to only feed dog-safe fruits and veggies to your best friend! Bon appetite!
To find out which produce is in-season where you live, check out seasonalfoodguide.org. Just plug in your state, the season and — voila! — up pops a comprehensive list.
Thumbnail: Photography by: ©Photoboyko | Getty Images
Diana Laverdure-Dunetz, MS, is an award-winning canine health writer, nutritionist and creator of Plant-Powered Dog, the plant-based dog nutrition and lifestyle website. Her mission is to help dog guardians worldwide raise thriving dogs through a compassionate plant-based diet that positively impacts the well-being of all animals and the planet.
Learn more about feeding your dog a healthy diet on dogster.com:
Click here to view full article